Welcome To My Art Studio
Creating a Workspace for your Art- Part 1 by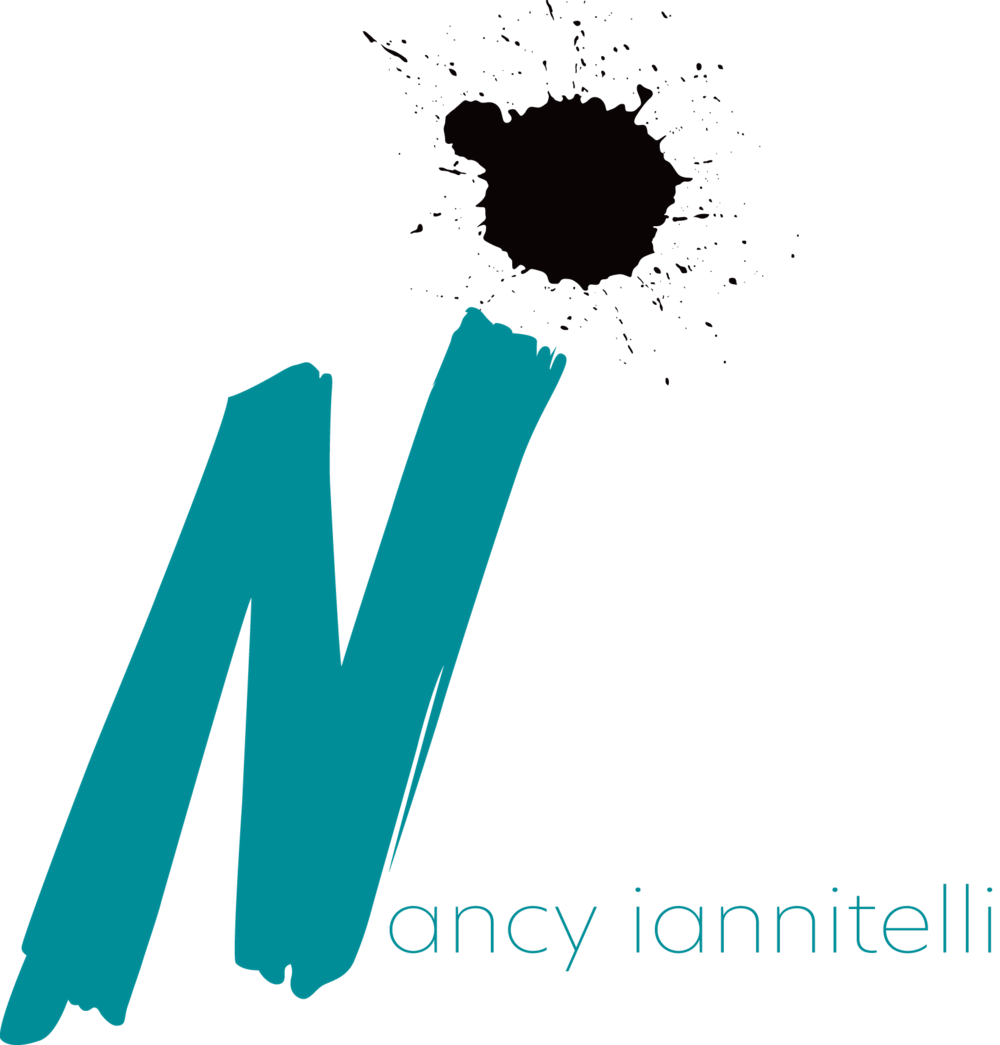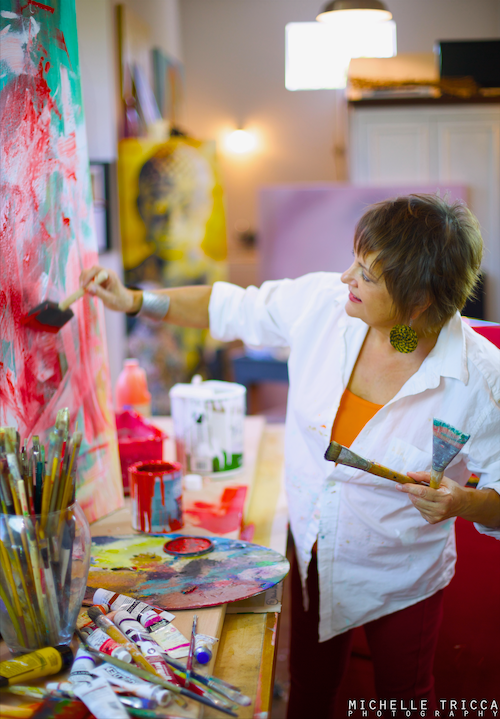 Creating a work space for your art is one of the most important things that you can do as an artist. Although I always drew and painted from the time I was young, I never identified myself as an artist. When I began painting portraits in oils and studying under a local portrait artist Mrs. Daniel Cox, at age 15, I found myself spending hours painting in my bedroom. It was my space!
Years went by before I finally created an exclusive space to paint in, this is when I began to take myself seriously. Feeling that an exclusive space to paint was something that I earned, I graduated to my garage. I didn't care if paint ended up on the floor, it was my space and a place to paint my large abstract paintings. This was sufficient at the time. Not all artists need a large space, but you do need to create a place for yourself where you can just create and produce your art.
As I developed several experimental styles over the years I became quite eclectic, not realizing the importance of finding my niche and in what direction or style I wanted to paint in. A mentor that I had admired, a teacher at Boston Art Museum gave me the best advice ever. He asked if he could see a body of my work. Once he took a look he suggested I pick one out that I loved and to produce 10 paintings in that style and then show him what I did. I chose the only one piece that was an abstract, amongst portraits, impressionism and realism. Once I did, it opened up a door for abstract painting. It just felt free and it felt right. Now it quickly became important to have a larger studio space. This is when I began painting in my garage, becoming free to not worry about paint ending up on my floor, walls or ceiling.
This was the beginning of my ability to sell and show my work. Over time I was able to get into local galleries. Once I begin selling my work, I knew that I had to move out of the garage and into a more significant workspace. I built a 500 sq. ft. art studio attached to my Villa. Doing this was the best investment I could've made for myself. Now I was able to spend hours experimenting with all sorts of mediums and applications using mostly acrylics.
I encourage anyone that wants to become an artist to find their cubbyhole, whether it's a small or large space, just make it your own! Fill it with everything you need so that it doesn't stop the flow of what ever you're creating. It's important that you don't have to pick up everything and put it away. This makes it difficult to get back to what you are doing. If you are wanting to become an artist as a hobby or making it a career, this is the best advice that I can give. Good Luck on your journey! All the best! Nancy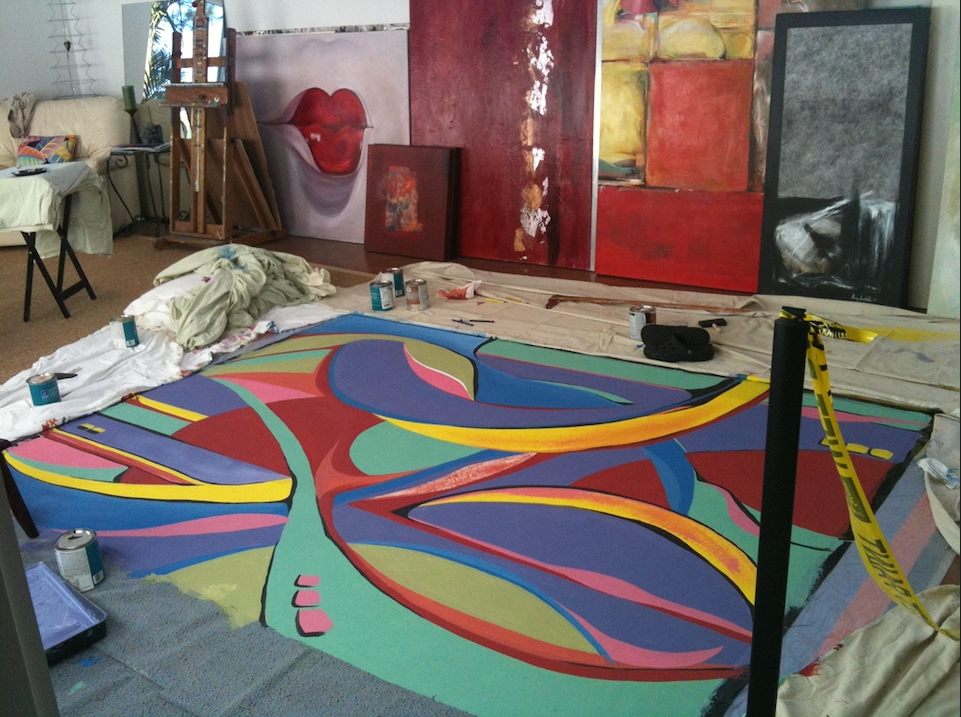 My studio was completed in 2011. This was my first commission for a client that requested a hand painted rug for her closed in patio.
Creating a Workspace for your Art- Part 2- Building The Studio by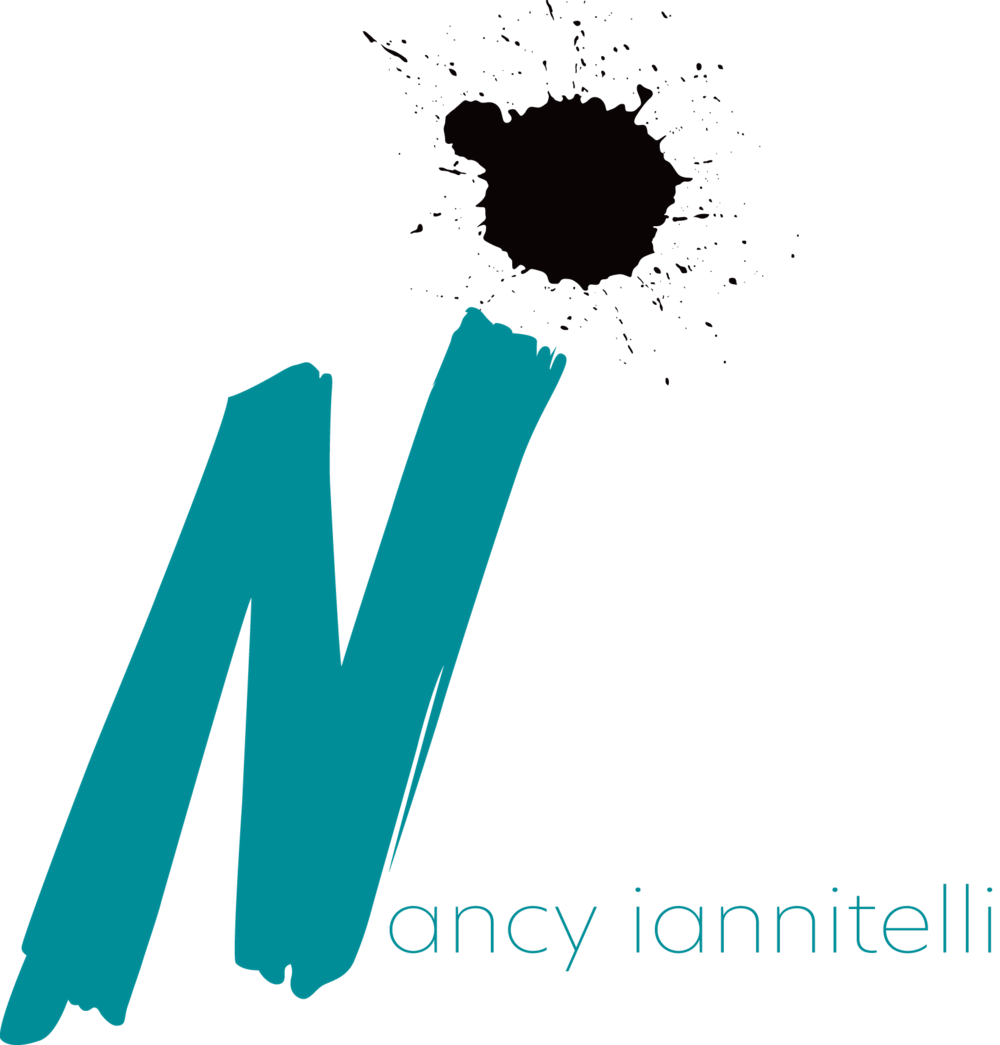 My first art space was in my living room. I threw a big sheet over everything covering the floor and furniture. At the time I lived in a small rural town outside of Boston, Massachusetts. After my son graduated from high school and left for college, I decided it was a good time to move. This was the year 1990, I left to travel around the country for 6 months in a camper, I settled in Naples, Florida. Naples had affordable homes, back then, so I bought a 1,400 sq. ft. villa. Shortly after moving in, my dining room table became a place where I could set up my easel and paint. Eventually I moved into my garage, soon I began to grow out of the garage, it was just not doable anymore. My work was getting larger and I wanted to paint even bigger!! In 2010 I decided it was time to build a studio as an addition to my Villa.
So my idea to build grew, but I wasn't sure if the association would allow me to build an addition. This thought didn't stop me from moving forward with my dream. When you're determined to do something like building this blog, you just push yourself to learn it and make it happen. In the end, I promise it will be rewarding.
Once I contacted the association they gave me the parameter's that I needed to get their approval. Quickly, I became an owner contractor. My first step was to research what I wanted my studio to look like. High ceilings, lots of light and wall space was a necessity.
This is what I had on my list of what would make a great art studio: A utility sink, good lighting, open floor space, meaning no nooks or crannies, no shelving, easy access with large sliding doors to transport large canvases, a cement floor "optional sanded and glazed", a cross breeze with a front entrance door facing the sliders, plumbing for a future bathroom and shower, lots of electrical outlets including outlets for a refrigerator and stove. Thats it. You are probably wondering why the hidden plumbing and electrical? Well this space can be easily converted into a small efficiency for a future sale. Did I mention that I have a career as a hairstylist that earned my way and at 71yrs old I'm still working 2 days a week as a stylist. I opened my first salon when I was 24 and my 3rd here in Florida in 2005. I never wanted to be a starving artist, so that's how I supported my art career. Ok back to building a studio.
A lot is involved, but once you have an idea of what you want, everything will flow, just take one step at a time.
Here are the steps I took. I was fortunate to have had a close friend that was an architect and another that was a contractor. It helps if you know a contractor to call in the inspections after each completed task, and getting good advice along the way. Begin with a note book filled with plastic inserts to put your important paper work in, including receipts. Keep everything in order to refer to later or as you go. It is one of the most important things you can do. I still after years have referred to it. It includes my plans and all my contracted people.
So the building process began. You'll see in photos how important it is to have high windows, not only for light but to utilize as much wall space as possible. Once your plans are approved, off to get permits. A contractor will tell you what you need to get started. This experience was so rewarding throughout the process until finished. A perfect project for an artist! So now it's time to get quotes from builders, plumbers, electricians, framers, dry wallers, roofers, interior and exterior painters, etc. Once you begin to choose and hire, the fun begins.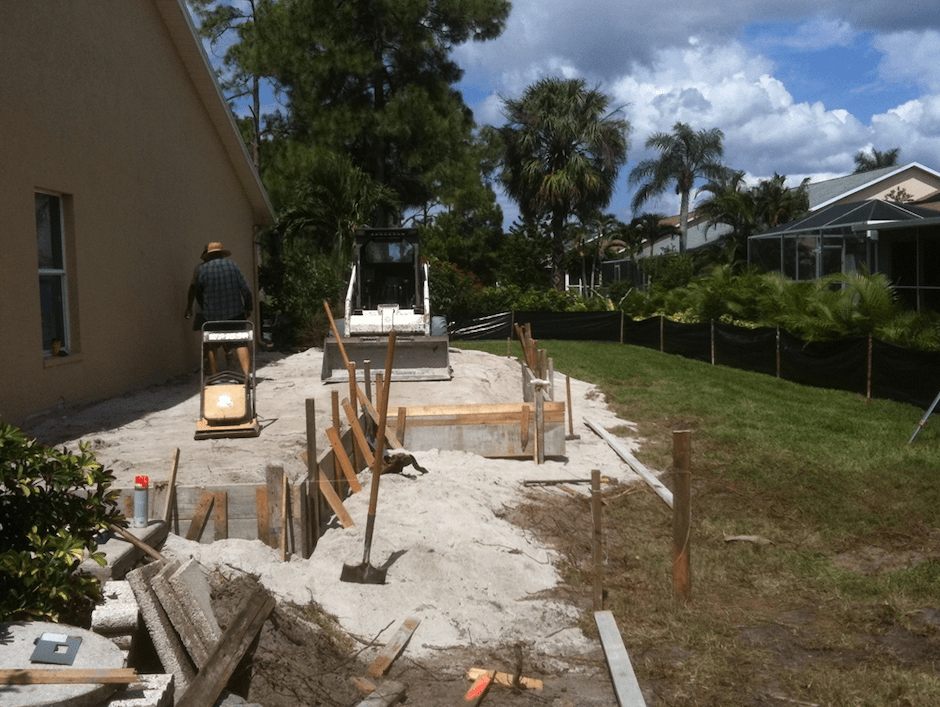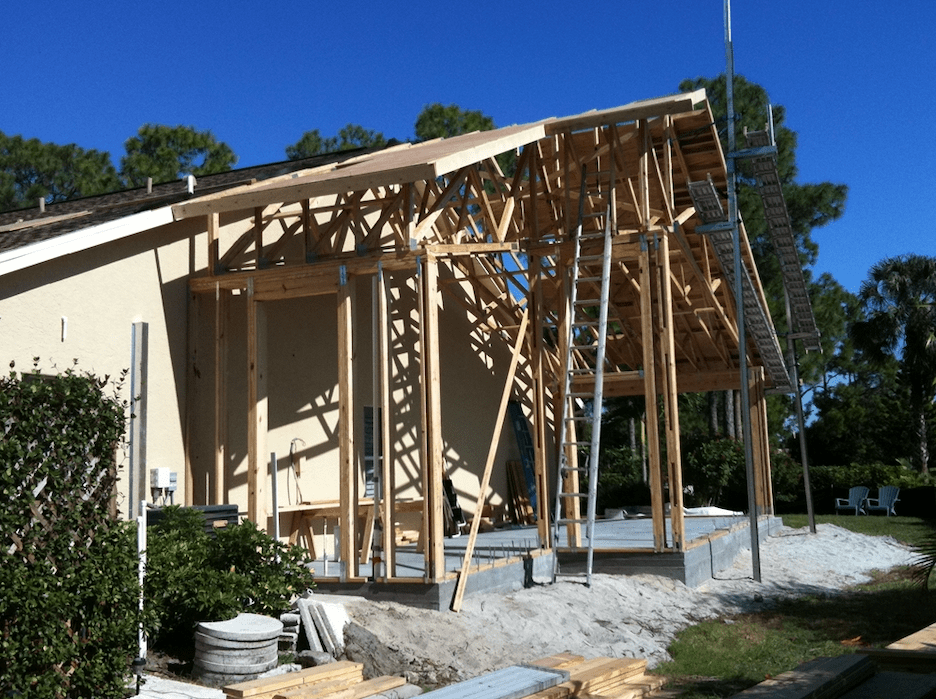 These photos tell the story better than I can.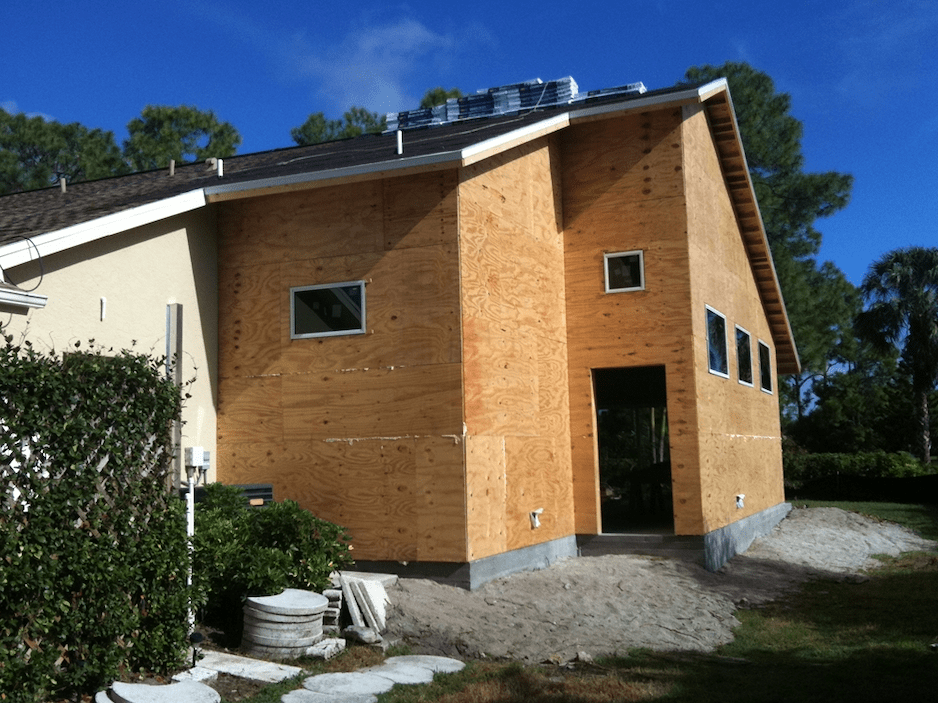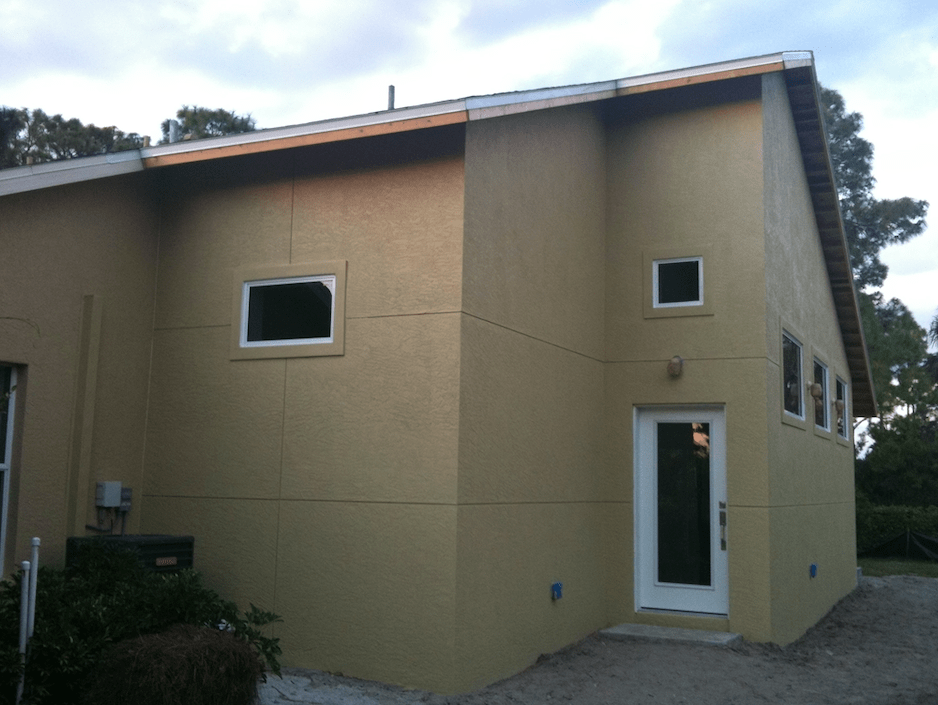 Today, I'm sitting in my garage typing on my computer, it has become storage for my art and my office space. For those artists who don't have the means to build a studio, delegate a room like I did using my garage for years. I just never thought it was important to garage my car in a space that can be so much more useful. It has a small portable heater/air conditioner vented to the out side. The cost was under $500.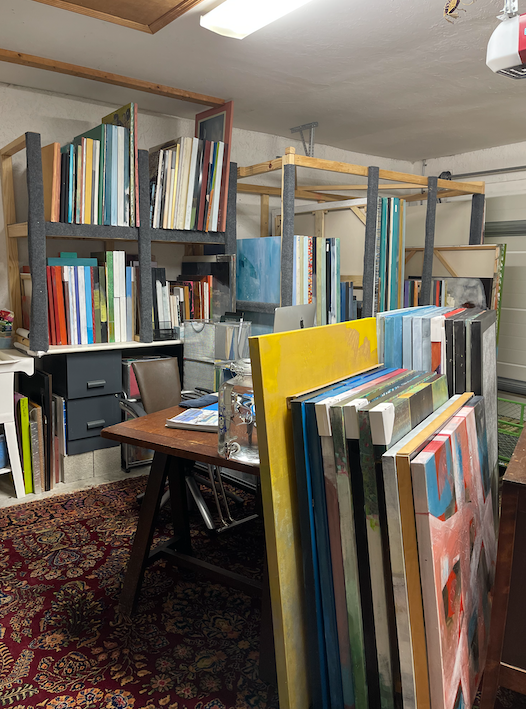 These next two photos are the studio shortly after it was completed. It didn't take me long to begin painting.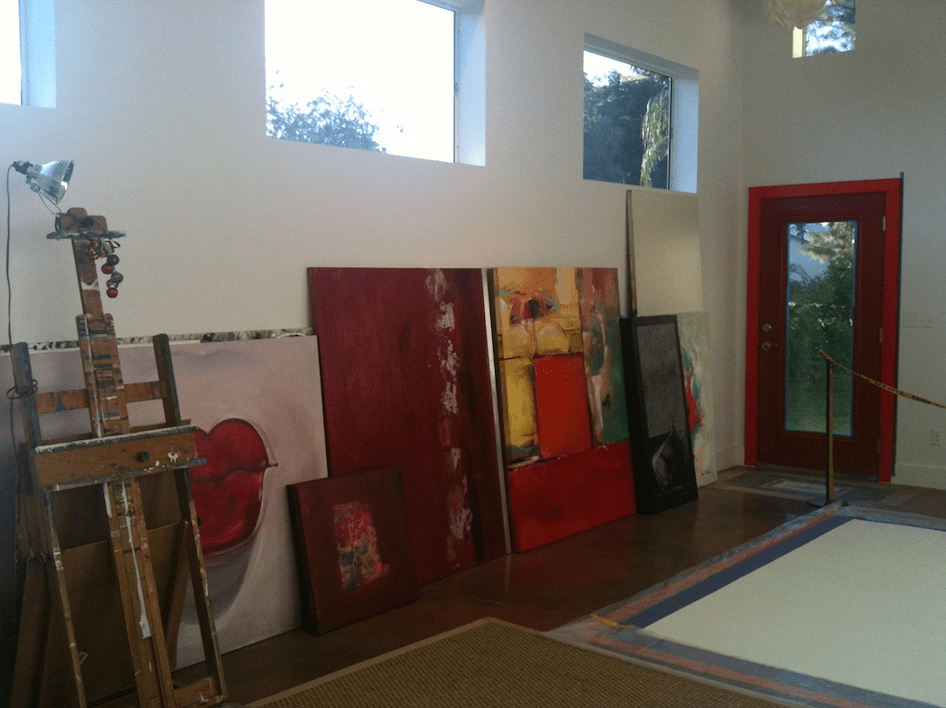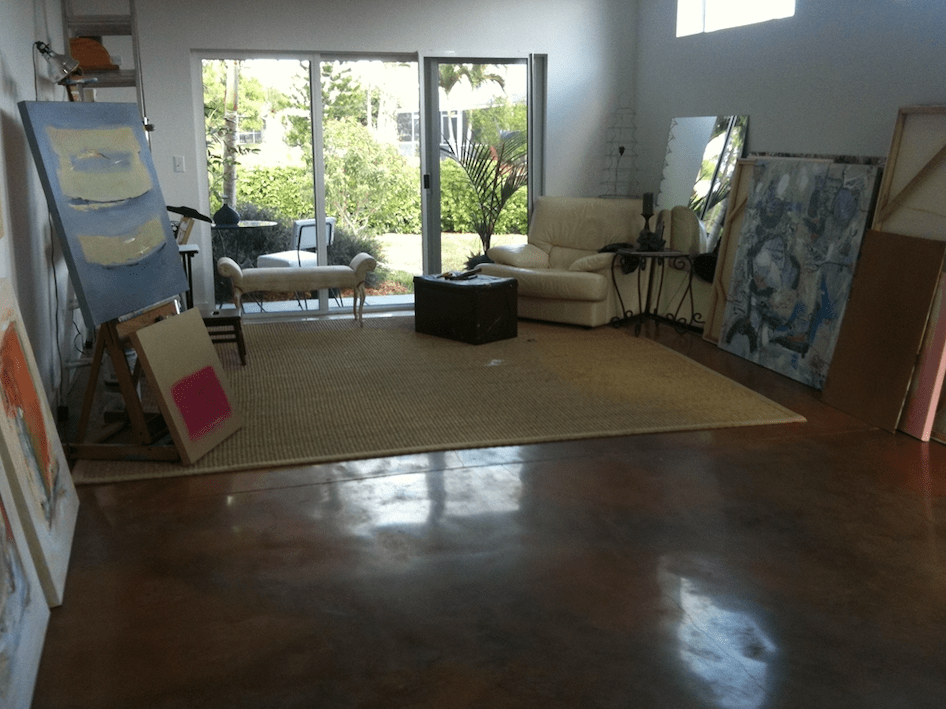 I truly hope you find some inspiration from what I shared here. This post is to encourage any female or male artist to follow their passion. As a single mom of an amazing son, who by the way is my best accomplishment and masterpiece I've ever created, I followed through with my passion to build this Studio. I'm now proud to say my family has grown to two beautiful grandsons and an amazing daughter in-law. All of them are talented in they're own right. Feeling Blessed. Keep the spirit, be true to yourself and your art always.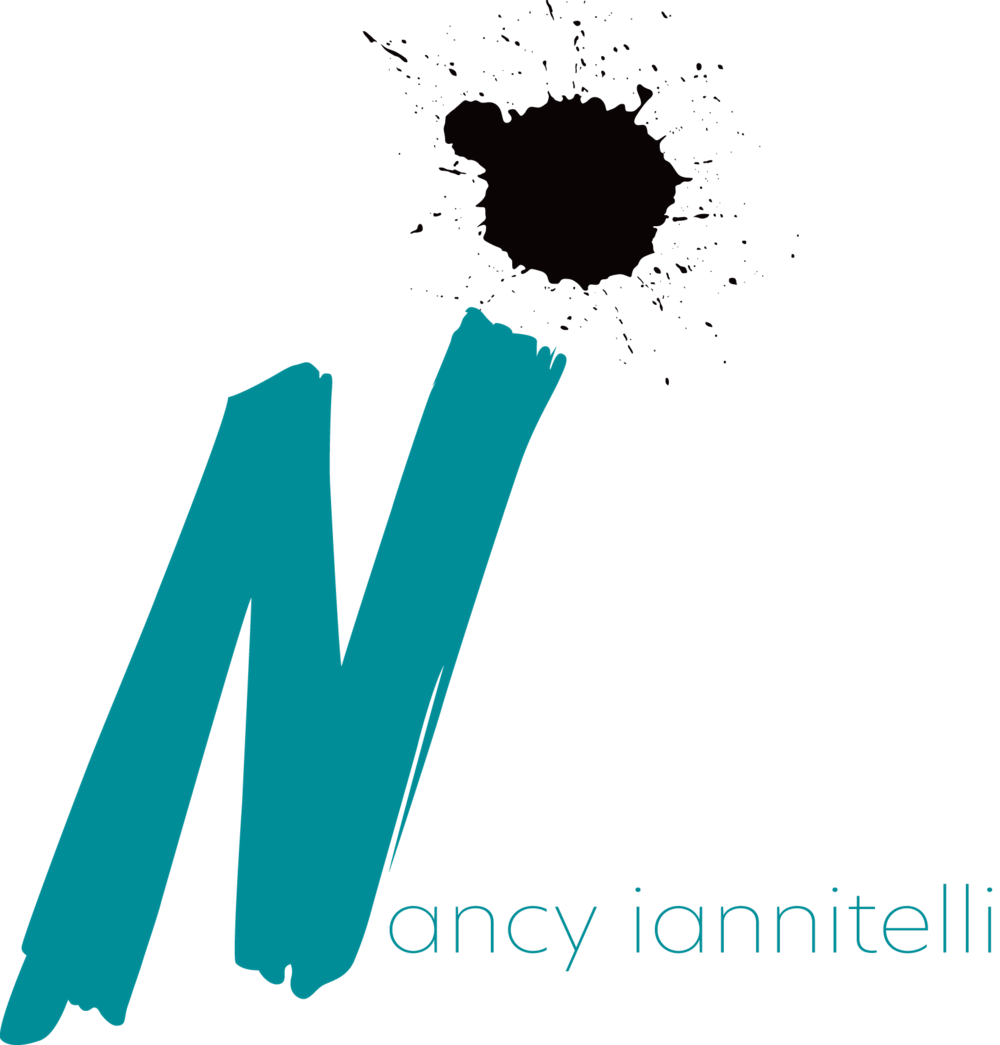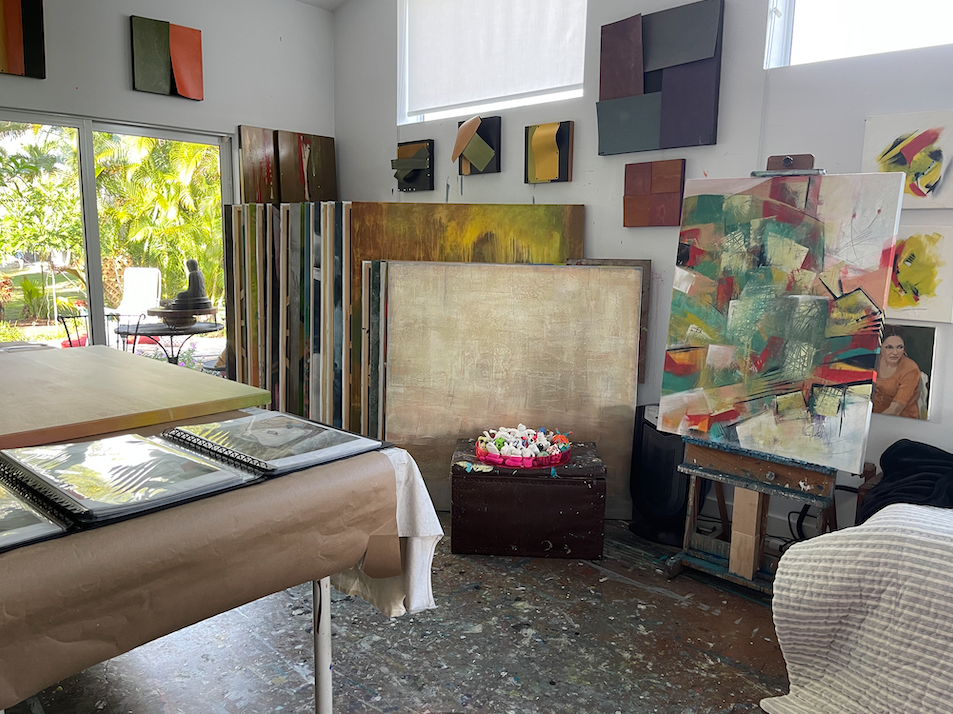 These are some current photos of my studio.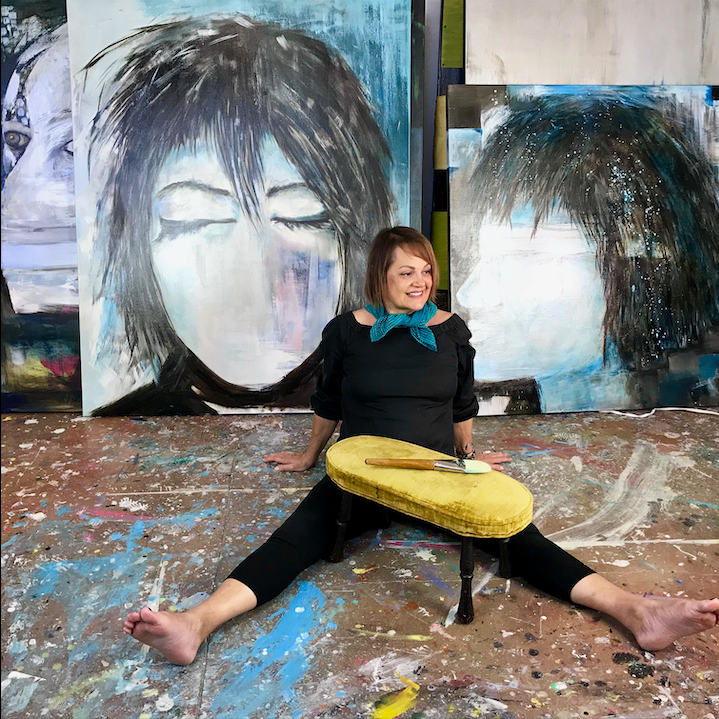 These few photos of me in my studio were taken by my dear friend and professional photographer, Michelle Tricca.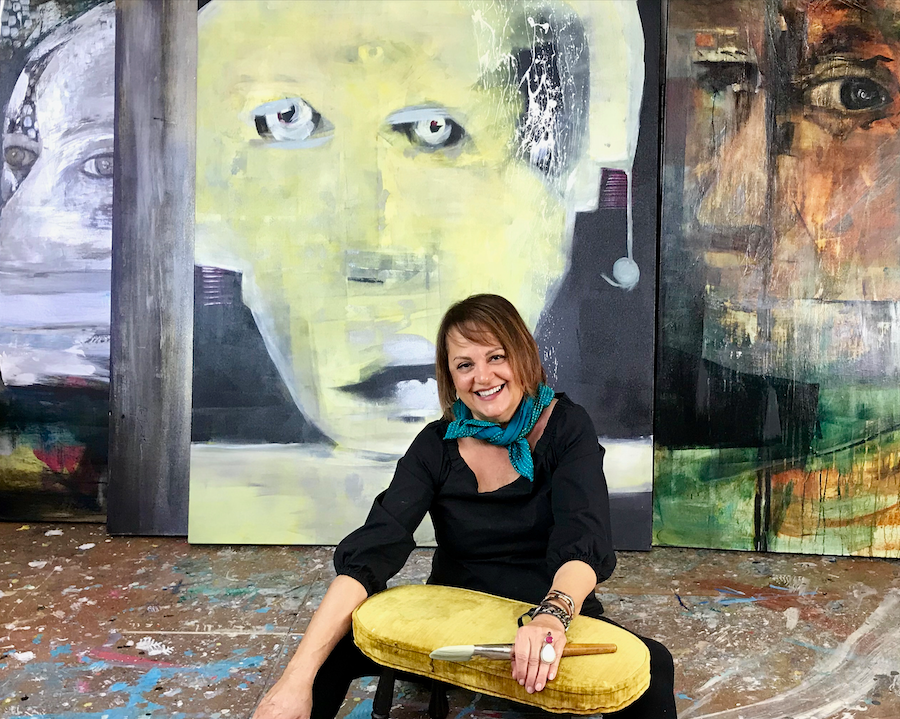 Take note of the floor and how it becomes a piece of action in the abstract world.
"Thoughts Become Things... Choose The Good Ones!"- Quote - Mike Dooley